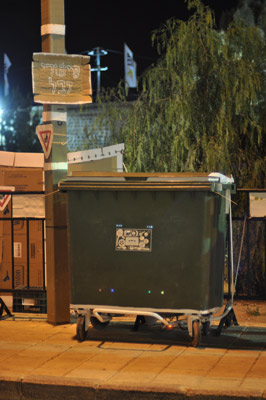 Trash Tales ///
an objects theater & sound performance taking place within a trash can.
commissioned by
Acco Street Festival
(2011).
Voice actors: Tamar Eitan, Yaeli Greenblatt
Production assistant: Avri Manor
Photography:
Idan Barzilay
A piece inviting the audience to open a large public trash can and talk to the discarded objects that are revealed inside. While talking to them, fragments of sounds from the objects' memories are heard.
A significant amount of our trash can be reused in a variety of ways, in its original use or for new and exciting purposes. Many objects become trash due only to a lack of interest in exploring these options. The piece tells this story from the objects' tragic point of view.